ScreenRecorder is a free easy-to-use screen recording app to record and capture your mobile screen in video formats with or without a front camera.
If you enable the front camera, you can record video of the mobile screen alongside your own video, using the front camera will help you capture your own video and also the mobile screen recording at the same time.
ScreenRecorder is best for recording the tutorials of any app, interactive video feature is helpful for app developers to record the video to explain the usage of their applications.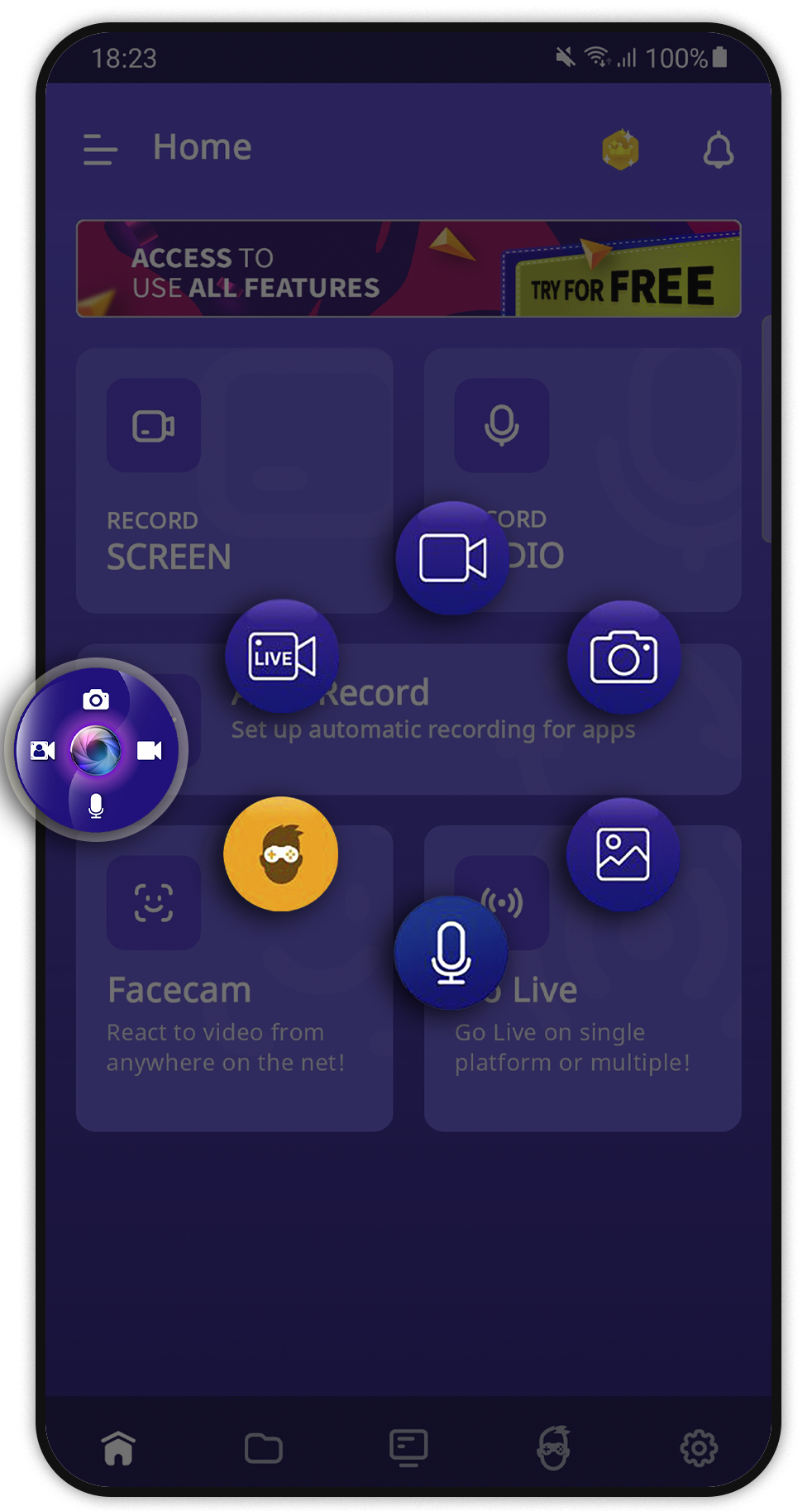 Capture all the happenings with screen recording
Probably you are a gamer who loves PubG and would want to share your skills with others. Or, maybe, you are a content creator who loves to generate tutorials. Sometimes, it is just about recording something on the device that you would want to save for later. Nevertheless, for all of that and more, you need a screen recorder. If you are wondering what a screen recorder is and how to download one, we have a guide below that may come in handy.
The basics of the Screen Recorder App
So, what is screen recording? True to the name, it refers to recording anything that's happening on your phone's screen. While some manufacturers do offer an in-built screen recorder on selected devices, the feature hardly works as well as a genuine app. What you need is an Android and iOS Screen Recorder that's designed for the purpose. These apps allow you to capture both video and sound, and you can create and generate all kinds of content, including content for other apps that focus on shorter formats.
Which screen recording app to choose?
You can check out our Screen Recorder app, which is a free app with an incredibly simplified and easy interface, which allows you to do much more than just record videos and games. You can live stream directly on a number of social media platforms and can record videos, capture screens and do other things, without paying a penny. You can easily get and download for Android and iOS, without much fuss. There is also a floating button on the app that makes it super easy to do stuff, especially live streaming on Facebook, YouTube, and other channels like Twitch.
More things to know
When you can do all of that and above, why pay for screen recording apps? Just select the right app. The app we mentioned is super simple to use, and you don't need to save the videos captured additionally. Screen Recorder does that for you. It is also possible to make facecam videos using the interactive videos feature within the app, and the developers have enlisted a detailed guide on how to do the same. The screenshots taken on Screen Recorder can be edited on the app itself so that your pictures are groomed before use. You will also find an easy share option, which allows you to share your videos on almost every platform that accepts uploads.
Final word
Now that you know the basics of screen recording and the best app for the purpose, go ahead and download it now. The best thing about the Screen Recorder app is the fact that it has no gimmicks. It delivers on what is promised, and both iOS and Android, it works like magic, even for novice gamers or content creators who have little or no understanding of how live streaming or screen recording works. The developers have also answered all relevant questions about Screen Recorder on their app, so check that out. You can download Screen Recorder from the App Store and Play Store for free!